Trusted Gutter Services in Charlotte, North Carolina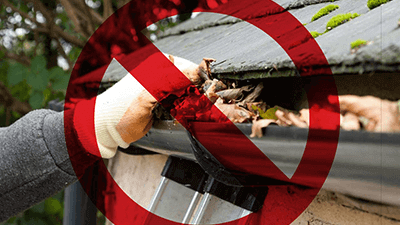 Are you having problems with your gutters in Charlotte? Do your gutters get clogged whenever it rains? Are you tired of paying someone to clean your clogged gutters? If you've said yes to any of these issues, it is time to look into working with a Charlotte area, experienced gutter replacement and gutter cover installation team. We are sure you will be completely pleased with our amount of knowledge, involvement, and competence when it comes to replacing your old, worn out gutters and providing a premium quality gutter guard system that will keep your gutters flowing throughout the year.
Replacement Gutters
If your gutters are not flowing like they used to, you may want to look into working with a professional to get updated, replacement gutters installed. It is very important for any property owner to make sure that rain gutters are working correctly at all times. If your home's gutters aren't working correctly, water will not be able to be diverted away from your house. What will happen is the water will overflow the gutters and spill down the siding of the house. This can cause damage to your siding, windows, doors, and even the foundation. If you start to notice any of the issues below, now is the time to have the gutters replaced.
Gutters bowing
Cracks in the gutters
Leaks inside
Peeling paint
Rotting wood
Mildew inside the house
If you're noticing any of these problems, don't hesitate to get in touch with our professionals to have the existing gutters expertly inspected and assessed.
Gutter Guard Installation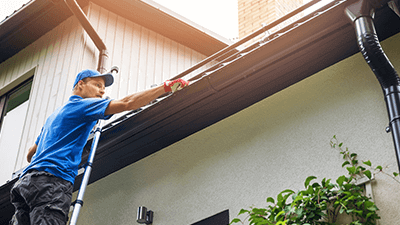 If you've ever spent any time clearing your home's gutters, you already know how time consuming it can be and almost always is. If you're ready to stop cleaning your gutters any time debris gets in them, it is time to find a solution created explicitly to prevent the need for regular cleaning, a dedicated gutter protection system.
The GutterShutter gutter protection system is not just a basic filter for the gutters. Our system has been expertly built and improved over the years by our professional engineers to give your home complete protection from clogged gutters. Our system is different from others in that it is not just placed on top of or attached to the current gutters. Many of these more simple gutter screens, filter additions, or straining devices are made of a basic metal or plastic filtering mesh that can easily tear, become clogged, and often times end up having a higher cost over time as a result of problems with being unable to drain water from your roof. Products like this can result in damage to the gutters and potentially allowing the entire gutter trough to collapse from the fascia as a result of overflow issues.
The gutter protection system we install is a complete problem gutter solution created to directly protect your house from problems in the future related to gutters not draining and water removal. Our solution does not attach to your current gutters, it is a complete replacement. It is constructed of high quality aluminum with the covers built directly into the gutter. This helps guarantee the system will stand up against any kind of debris clogs and make sure water is flowing through the year. It is designed to work during severe weather, is backed by an industry standard warranty, and we guaranteed it is only installed by expertly trained team members. When you're wanting to have the final gutter system and gutter protector installed on your house, we are available to work with you.